Happy Thursday! We are so happy to see that spring is making its way to everyone! This week's link up was full of stripes, florals, and pops of color. We loved it! As always, thank you to those who linked up last week. We can't wait to see what you have in store for us this week! So get linked up, meet some new blog buddies and check out these fabulous ladies while you're at it!
Meet this week's featured three...
Sarah of
Sew Sarah R
looks fabulous in black and white. Floral and stripes mix perfectly together, and we love how she added pops of color with her Hunter boots and bright yellow umbrella. Hopefully that snow is gone now, Sarah!
Carylee of
More Pieces of Me
is looking red hot! Stripes are our weakness, so of course we are loving her red and navy striped top! We love how she paired it with red denim and a leopard belt.
Nikki of
A Little Bit of Everything
mixed stripes and floral for a fresh and feminine spring look. We love how the pink pops against the black and white stripes. A pair of fabulous pink heels is also on our wish list!
Link up for your chance to be one of the featured three next week!


How it works:
Three-fer Thursday is a linkup party where you submit your favorite post from the week and link it up here at Perfectly Coutured and Everyday Fashion and Finance. The following Thursday, we will choose three of those posts that we particularly enjoyed and then share them with all of you! If you're one of the chosen three, we will email you on Wednesday evening to let you know so you can post about it on your blog (if you want)!
Requirements:
Your post can be about anything fashion related! Think of it as show and tell for your favorite post that you have worked so hard on! We do ask that you please follow
Everyday Fashion and Finance
and
Perfectly Coutured
in order to link up. Also, don't forget to post a link back to Three-fer Thursday so that people can come visit! Feel free to use the button below or you can create your own text link if you prefer.
Why should you link up?
Do you like discovering new blogs and building new relationships with other bloggers? We know we do and Three-fer Thursday is a way for us to do just that!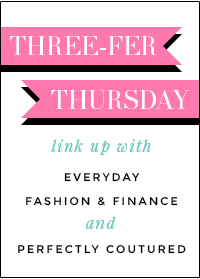 P.S. Check out the #springstylestyle giveaway that is happening here, there is still time to enter!